Brown Marmorated Stink Bug Information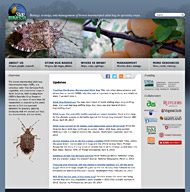 Our new website launches the latest research findings about the invasive insect, with a photo identification guide and advice on how to control it. Learn more at StopBMSB.org.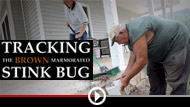 Quick Links to StopBMSB.org
---
Stink Bugs in the News
BMSB in the News (StopBMSB.org)
August 26, 2014

Using specialized digital photography methods, USDA scientists are providing valuable taxonomic support to researchers examining Asian Trissolcus species for potential use against BMSB. Source: Entomology Today, Aug 26, 2014.
August 21, 2014

The brown marmorated stink bug is affecting peppers, peach, and pear crops near Portland, Oregon. Source: KGW.com, Aug 21, 2014.
July 25, 2014

The brown marmorated stink bug is keeping biosecurity managers awake at night in New Zealand. Source: Manawatu Standard, July 25, 2014.
July 16, 2014

USDA researchers have deciphered the chemical signals the brown marmorated stink bug uses to attract other stink bugs, opening the door to the development of new traps and pest control technologies. Source: USDA Agricultural Research Service, July 16, 2014.
June 9, 2014

Minnesota researchers will monitor the insect's spread and try to identify a biological control for the bug. Source: StarTribune, June 9, 2014.
How to Identify, Monitor, and Manage Stink Bugs
Información en español
Stink Bug Presentations
Research Reports
IPM Working Group