Brown Marmorated Stink Bug Information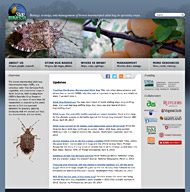 Our new website launches the latest research findings about the invasive insect, with a photo identification guide and advice on how to control it. Learn more at StopBMSB.org.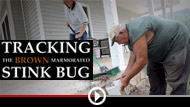 Quick Links to StopBMSB.org
---
Stink Bugs in the News
BMSB in the News (StopBMSB.org)
April 13, 2015

Brown marmorated stink bugs are coming out of their dormant winter state in droves, while researchers continue their quest to figure out ways to control the invasive insect. Source: Hamilton Spectator (Hamilton, Ontario), April 8, 2015.
March 9, 2015

Stink bug damage in mid-Atlantic orchards was less last year, restoring hope for the future of IPM. Source: Good Fruit Grower, March 8, 2015.
March 6, 2015

Researchers are testing trap crops as a way to manage brown marmorated stink bug. Source: Good Fruit Grower, March 5, 2015.
January 13, 2015

The brown marmorated stink bug has been detected in seven Alabama counties and suspected in two more counties, based on corn ear damage. Source: Southeast Farm Press, January 13, 2015.
January 9, 2015

High school senior is named a semi-finalist in the Intel Science Talent Search for work on the brown marmorated stink bug with Dr. George Hamilton of Rutgers University. Source: Bedford-Katonah Patch, January 9, 2015.
How to Identify, Monitor, and Manage Stink Bugs
Información en español
Stink Bug Presentations
Research Reports
IPM Working Group