Brown Marmorated Stink Bug Information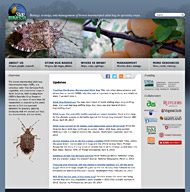 Our new website launches the latest research findings about the invasive insect, with a photo identification guide and advice on how to control it. Learn more at StopBMSB.org.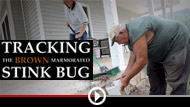 Quick Links to StopBMSB.org
---
Stink Bugs in the News
BMSB in the News (StopBMSB.org)
March 4, 2014

Washington State University is one of 10 institutions across the nation whose researchers are working to head off an invasion of the brown marmorated stink bug. Source: WSU News, March 4, 2014.
March 3, 2014

Researchers monitor the effect of cold weather on destructive pests. Source: The Washington Post, March 3, 2014.
February 27, 2014

Extreme winter temperatures may knock them back a bit, but temperature alone is not the only factor determining stink bug survival. Source: Newsworks.org, February 27, 2014.
February 26, 2014

Scientists have developed a way to extract saliva from stink bugs and identify the proteins in it, paving the way for new pest control methods. Source: Futurity.org, February 26, 2014.
February 26, 2014

The brutal winter cold and snow this year probably won't decrease the stink bug population much in New Jersey. Source: Planet Princeton, February 26, 2014.
How to Identify, Monitor, and Manage Stink Bugs
Stink Bug Presentations
Research Reports
IPM Working Group