Brown Marmorated Stink Bug Information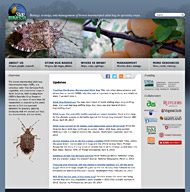 Our new website launches the latest research findings about the invasive insect, with a photo identification guide and advice on how to control it. Learn more at StopBMSB.org.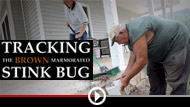 Quick Links to StopBMSB.org
---
Stink Bugs in the News
BMSB in the News (StopBMSB.org)
May 7, 2013

The Diane Rehm Show takes a look at the biology and ecology of stink bugs and efforts to control their invasion. Source: The Diane Rehm Show, WAMU, May 7, 2013
May 6, 2013

Researchers at Oregon State University are trying to make sure the brown marmorated stink bug doesn't overtake Oregon farmlands. Source: KATU.com, May 6, 2013
April 29, 2013

Could a tiny wasp be the ultimate weapon in the battle against the foreign bug invasion? Source: BBC News, April 25, 2013
April 16, 2013

While the invasive Asian stink bug continues to spread, Italian stink bugs were spotted hitching a ride in a load of ceramic tile. Source: Washington Examiner, April 16, 2013
April 8, 2013

USDA entomologist Tracy Leskey discusses brown marmorated stink bugs and the efforts to stop them. Michael Raupp has the story of a big brood of cicadas that is set to emerge up and down the East Coast. Source: NPR, All Things Considered, April 6, 2013.
How to Identify, Monitor, and Manage Stink Bugs
Stink Bug Presentations
Research Reports
IPM Working Group