2017 IPM Online Conference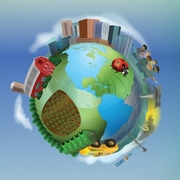 The third annual IPM Online Conference, hosted by the Northeastern IPM Center (NEIPMC), featured updates from active projects funded by the NEIPMC's Partnership Grants Program and from IPM-related projects funded through the Northeast Sustainable Agriculture and Education (NE SARE) Program and USDA-NIFA's Applied Research and Development Program (ARDP) and Extension Implementation Program (EIP).
The rapid style conference featured 5-minute presentations in which the speakers discussed one or two highlights from their projects. The purpose of the conference was to increase collaboration and awareness about current IPM-related research and extension in the Northeast.
Click on one of the video thumbnails below to launch the player, or watch the playlist on YouTube.
Give us your feedback — take a short survey about the Online Conference so we can make improvements for next year.
---
Part 1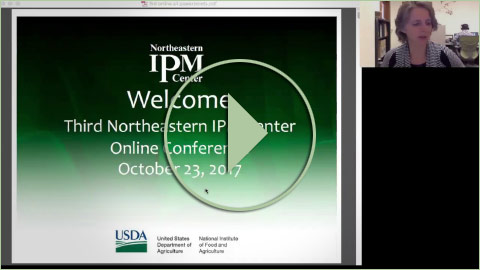 Jana Hexter, Steve Young – Introduction
Changlu Wang (NEIPMC) – Reducing pest infestations and insecticide residues in low income housing – Rutgers University
Charles Lubelczyk (NEIPMC) – Manipulation of winter soil conditions as an IPM tool for blacklegged tick – Maine Medical Center
Quan Zeng (NEIPMC) – Evaluation of organic management options for fire blight in Connecticut – Connecticut Agricultural Experiment Station
Peter Jentsch (NESARE) – A behaviorally based approach to managing the invasive brown marmorated stink bug – Cornell University
Q&A Discussion
Part 2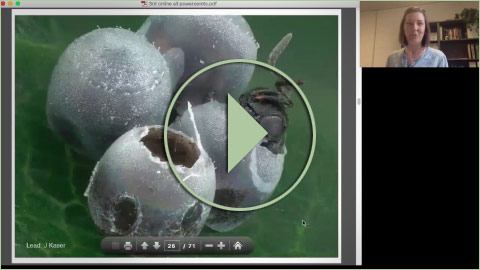 Cesar Rodriguez-Saona (ARDP) – Managing an invasive drosophilid species in agriculture using innovative behavioral manipulation strategies – Rutgers University
Anne Nielsen (ARDP) – IPM-CPR: Using border sprays for brown marmorated stink bug in fruit – Rutgers University
Kathy Murray (NEIPMC) – Engaging school nurses to promote school IPM – Maine Department of Agriculture, Conservation, and Forestry
Adrienne Gorny (NESARE) – Susceptibility of potato varieties grown in New York to root-knot nematode (Meloidogyne hapla) – NYSAES, Cornell University
Q&A Discussion
Part 3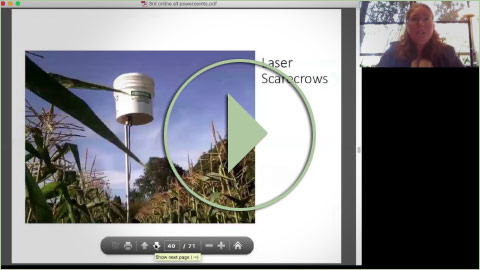 Aditi Dubey (NESARE) – Evaluations of economic benefits and long-term sustainability of neonicotinoid seed treatment use in the mid-Atlantic – University of Maryland
Rebecca Brown (NESARE) – Laser scarecrows for preventing bird damage in sweet corn – University of Rhode Island
Martha Mutschler-Chu (NESARE) – Combining resistances to major bacterial, fungal, and oomycete diseases of Northeast-adapted tomato – Cornell University
Jennifer Hashley (NEIPMC) – Working with small-scale producers on IPM strategies: lessons from urban agriculture, small ruminants, and diverse producers perspectives on cultural controls – Third Sector New England
Q&A Discussion
Part 4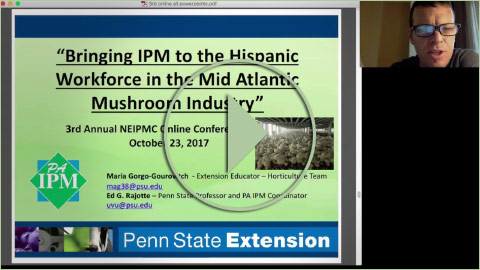 Darcy Telenko (NESARE, NYFVI) – Evaluation of novel bird repellents in vegetable crops – CCE Cornell Vegetable Program
Maria Gorgo-Gourovitch (NEIPMC) – Bringing IPM to the Hispanic workforce in the mid-Atlantic mushroom industry – PA IPM Program, Penn State
Extended Q&A Discussion
Part 5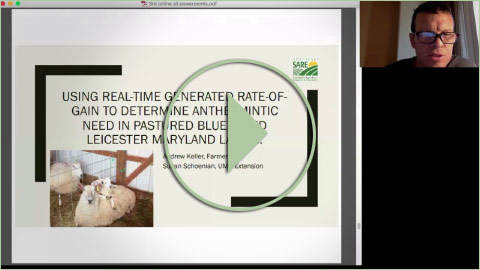 Donna Ellis (CPPM-EIP) – What's new with IPM in Connecticut? – University of Connecticut
Olivia Saunders (NESARE) – Weed control in low-input or organically grown wild lowbush blueberries – University of New Hampshire
Andrew Keller (NESARE) – Using rate-of-gain to determine anthelmintic need in Blue Faced Leicester lambs – Vista View Farms, Maryland
Mary Barbercheck (NEIPMC) – Going underground: conserving insect-pathogenic fungi for biological control – Penn State
Q&A Discussion
---
---