Brown Marmorated Stink Bug Information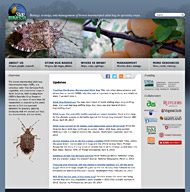 Our new website launches the latest research findings about the invasive insect, with a photo identification guide and advice on how to control it. Learn more at StopBMSB.org.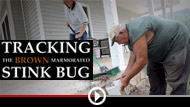 Quick Links to StopBMSB.org
---
Stink Bugs in the News
BMSB in the News (StopBMSB.org)
November 10, 2014

Hold your nose: the brown marmorated stink bug could be heading to Britain. Source: The Telegraph, November 10, 2014.
November 3, 2014

Eastern fruit growers are working with research entomologists to recover their IPM systems using a new pheromone-baited trap. Source: Good Fruit Grower, November 3, 2014.
October 24, 2014

These persistent bugs are threatening the Central Valley's agricultural industry and disheartening home gardeners. Source: The Sacramento Bee, October 24, 2014.
October 17, 2014

Parasitic wasps may be one solution to controlling the invaders' march. Source: National Geographic, October 17, 2014.
October 6, 2014

The brown marmorated stink bug uses more than 100 different plant species for food, including many fruits, vegetables, field crops and landscape ornamentals. Source: The Daily News Online, October 6, 2014.
How to Identify, Monitor, and Manage Stink Bugs
Información en español
Stink Bug Presentations
Research Reports
IPM Working Group