Brown Marmorated Stink Bug Information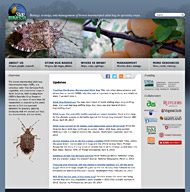 Our new website launches the latest research findings about the invasive insect, with a photo identification guide and advice on how to control it. Learn more at StopBMSB.org.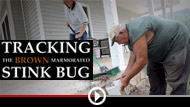 Quick Links to StopBMSB.org
---
Stink Bugs in the News
BMSB in the News (StopBMSB.org)
June 16, 2015

What are stink bugs, where did they come from, and how can I get rid of them? Source: The New York Times, June 15, 2015.
June 15, 2015

A lot of different species emit a stink when threatened, among them the leaf-footed bugs and, of course, stink bugs. Source: CentralMaine.com, June 10, 2015.
May 22, 2015

In Sacramento, pests that disappeared in November are coming out of hiding, ready to start another attack. Source: The Sacramento Bee, May 22, 2015.
May 17, 2015

Virginia Tech graduate student John Aigner received an overwhelming response after tweeting to the public about stink bug breakouts. Source: Collegiate Times, February 17, 2015.
April 13, 2015

Brown marmorated stink bugs are coming out of their dormant winter state in droves, while researchers continue their quest to figure out ways to control the invasive insect. Source: Hamilton Spectator (Hamilton, Ontario), April 8, 2015.
How to Identify, Monitor, and Manage Stink Bugs
Información en español
Stink Bug Presentations
Research Reports
IPM Working Group