Brown Marmorated Stink Bug Information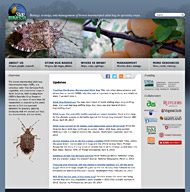 Our new website launches the latest research findings about the invasive insect, with a photo identification guide and advice on how to control it. Learn more at StopBMSB.org.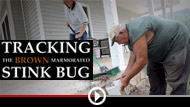 Quick Links to StopBMSB.org
---
Stink Bugs in the News
BMSB in the News (StopBMSB.org)
March 3, 2014

Researchers monitor the effect of cold weather on destructive pests. Source: The Washington Post, March 3, 2014.
February 27, 2014

Extreme winter temperatures may knock them back a bit, but temperature alone is not the only factor determining stink bug survival. Source: Newsworks.org, February 27, 2014.
February 26, 2014

Scientists have developed a way to extract saliva from stink bugs and identify the proteins in it, paving the way for new pest control methods. Source: Futurity.org, February 26, 2014.
February 26, 2014

The brutal winter cold and snow this year probably won't decrease the stink bug population much in New Jersey. Source: Planet Princeton, February 26, 2014.
February 10, 2014

One of the challenges of controlling the brown marmorated stink bug is that it looks a lot like other kinds of stink bugs. Source: Yakima Herald, February 9, 2014.
How to Identify, Monitor, and Manage Stink Bugs
Stink Bug Presentations
Research Reports
IPM Working Group