Brown Marmorated Stink Bug Information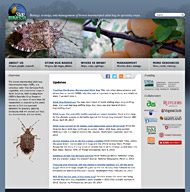 Our new website launches the latest research findings about the invasive insect, with a photo identification guide and advice on how to control it. Learn more at StopBMSB.org.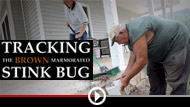 Quick Links to StopBMSB.org
---
Stink Bugs in the News
BMSB in the News (StopBMSB.org)
August 26, 2015

Researchers are taking a closer look at how brown marmorated stink bugs are causing damage to developing ears of sweet corn, and their findings could lead to better pest management strategies. Source: UDaily, August 25, 2015.
July 28, 2015

Professor Clarissa Mathews and students at Shepherd University are looking for environmentally benign ways to prevent brown marmorated stink bugs from damaging organically grown crops. Source: Herald Mail Media, July 19, 2015.
July 13, 2015

Scientists from Virginia, North Carolina, and Georgia have found that Brown Marmorated Stink Bugs prefer certain wild hosts, including tree of heaven, catalpa, yellowwood, paulownia, cherry, walnut, redbud, and grape. Source: Entomology Today, June 30, 2015.
July 13, 2015

A new study shows that stink bugs have a strong preference for ripe fruit, and they track their favorite fruits throughout the growing season in an effort to maximize access to food. Source: Phys.org, June 29, 2015.
June 16, 2015

What are stink bugs, where did they come from, and how can I get rid of them? Source: The New York Times, June 15, 2015.
How to Identify, Monitor, and Manage Stink Bugs
Información en español
Stink Bug Presentations
Research Reports
IPM Working Group