Brown Marmorated Stink Bug Information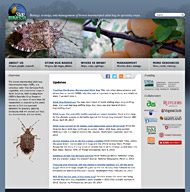 Our new website launches the latest research findings about the invasive insect, with a photo identification guide and advice on how to control it. Learn more at StopBMSB.org.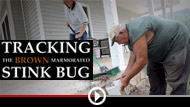 Quick Links to StopBMSB.org
---
Stink Bugs in the News
BMSB in the News (StopBMSB.org)
July 25, 2014

The brown marmorated stink bug is keeping biosecurity managers awake at night in New Zealand. Source: Manawatu Standard, July 25, 2014.
July 16, 2014

USDA researchers have deciphered the chemical signals the brown marmorated stink bug uses to attract other stink bugs, opening the door to the development of new traps and pest control technologies. Source: USDA Agricultural Research Service, July 16, 2014.
June 9, 2014

Minnesota researchers will monitor the insect's spread and try to identify a biological control for the bug. Source: StarTribune, June 9, 2014.
May 12, 2014

A simple home-built stink bug trap is both cheaper and more effective than several store-bought traps. Source: The Washington Post, May 12, 2014.
May 7, 2014

This short video demonstrates a simple and effective technique to trap stink bugs at home using just an aluminum pan, soapy water, and a desk lamp. Source: Virginia Tech's Vimeo Channel.
How to Identify, Monitor, and Manage Stink Bugs
Información en español
Stink Bug Presentations
Research Reports
IPM Working Group