Find a Colleague
---
Alan Eaton
University of New Hampshire Cooperative Extension
Areas of Expertise: rodents, ticks, apples, blueberries
IPM Tools: biological control, cultural control, education, exclusion/avoidance, monitoring
Bio: Alan has been coordinator of UNH Cooperative Extension's integrated pest management work since 1978. The work involves managing pests of tree fruit, small fruit and vegetables. He also extensively works on ticks (especially blacklegged tick, which spreads several human diseases here). We (the IPM team) provide educational programs and publications to assist people in managing pest problems. While commercial agriculture is our primary focus, the creation of a national IPM road map helped us broaden our scope, and we also work with backyard gardeners, and anyone who is a potential victim of tick bite.
Collaboration Interest: With retirement looming, I am not seeking long term collaborations, but may be interested in short-term collaborations on voles or ticks.
Website: extension.unh.edu/Agriculture/Integrated-Pest-Management-IPM
Email: alan.eaton@unh.edu
Phone: (603) 862-1734
---
Jeff Garnas
University of New Hampshire
Areas of Expertise: fungi, forest insects and pathogens
IPM Tools: biological control, host resistance, modeling
Bio: I am a population and community ecologist and have focused on invasive insects and pathogens in forest systems. I am interested in understanding the evolutionary ecology of invasion, including genetic consequences of population bottlenecks and admixture on adaptive evolution in invaded ecosystems. I currently work with a number of systems including the emerald ash borer, the southern pine beetle, and beech bark disease, among others.
Website: mypages.unh.edu/garnaslab/
Email: jeff.garnas@unh.edu
---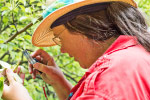 Kathleen Leahy
Polaris Orchard Management
Pest Expertise: aphids, apple leaf curling midge, apple maggot, apple scab, bacterial diseases, brown marmorated stink bug (BMSB), European brown rot, fire blight, fly speck, obliquebanded leafroller, oriental fruit moth, parasites, plum curculio, potato leafhopper, powdery mildew, predatory mites, scale, small fruit insects, weeds & diseases, sooty blotch, spider mites, spotted wing drosophila, tarnished plant bug, winter moth
Crops and Commodities: apples, blueberries, cherries, fruit, grapes, nectarines, peaches, pears, raspberries, small fruit, stone fruit, tree fruit
IPM Tools: biological control, cultural control, decision support aids, modeling, monitoring, pesticides
Bio: IPM tree fruit consultant working directly with 20+ growers in Massachusetts, New Hampshire, Vermont, and eastern New York since 1993. Worked as a field technician for UMass Apple IPM Program for 10 years before that. MS in Plant, Soil and Insect Sciences from UMass.
Collaboration Interest: Open to a wide variety of collaborations — would like to see more cooperation between consultants and Extension/research workers. Advanced IPM; invasives; multi-pronged management approaches... all that stuff.
Website: polarisipm.com
Email: polaris2@rcn.com
Phone: (413) 374-7669
---
Michael Millican
New York City Department of Healthy and Mental Hygiene, Healthy Homes Program
Pest Expertise: ants, Asian tiger mosquito, bed bugs, cockroaches, colony collapse disorder, rodents
IPM Tools: biological control, cultural control, decision support aids, diagnostic tools, education, eradication, exclusion/avoidance, habitat modification, IPM priorities & guidelines, mechanical control, modeling, monitoring, pesticides, pest prevention by design
Bio: Urban IPM Specialist working on IPM interventions in the homes of children with Asthma. Previously developed municipal and county wide IPM programs in California. Currently providing training to architects, developers and construction managers on pest prevention during all stages of the building life cycle, from design and construction, to operations and maintenance and retrofit. Focused on combining building upgrades related to energy and water efficiency with health upgrades focused on pest prevention and IPM best practices.
Collaboration Interest: I am interested in working on projects focused on pest prevention by design, IPM interventions in the homes of children with asthma, and pest management in cultural institutions and municipalities.
Website: www1.nyc.gov/site/doh/health/health-topics/pests-and-pesticides-building-owners.page
Email: mmillican@health.nyc.gov
Phone: (646) 632-6607
---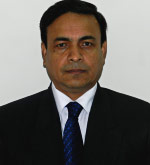 Mahfuz Rahman
West Virginia University
Pest Expertise: apple scab, black root rot, early blight, late blight, fire blight, fungi, mummy berry disease, peach scab
Crops and Commodities: blueberries, cucurbits, eggplant, grapevine, peaches, pears, raspberries, small fruit, strawberries
IPM Tools: biological control, cultural control, decision support aids, diagnostic tool, education, exclusion/avoidance, forecasting, host resistance, IPM priorities & guidelines
Education:
PhD Plant Pathology, Simon Fraser University, Burnaby, BC, Canada
MS Plant Pathology, Oregon State University, Corvallis, OR, USA
Professional Experience:
Extension Associate Professor (5/2017–present), West Virginia University
Program focus: Integrated disease management of fruits and vegetables with emphasis on strawberries, tomatoes, and cucurbits. Specific responsibilities are:
Disease diagnosis at WVU Plant Diagnostic Clinic and sending recommendations to growers
Development of IPM based plant disease management tools for sustainable crop production
Research and teaching on "Integrated Pest Management of Vegetables and Small Fruits"
Development and implementation of decision support system for growers and investigation on fungicide efficacy in growers field and research farms
Extension Assistant Professor (6/2011–5/2017), West Virginia University
My major research focus is sustainable management of diseases in small fruits and vegetables. I strongly believe plant disease management should be a package of judiciously arranged options encompassing host resistance, use of disease free seeds and transplants, planting in appropriate site and providing balanced nutrients to maintain good plant vigor, careful intercultural operations to minimize environmental stress, and use of plant protection materials if needed. Exploitation of host resistance has been on the top of the list of my research and will continue to be so for sustainability of crop production and feed ever increasing population. Host resistance and varietal potential of resistance to diseases need to be exploited and incorporate it in the package of disease management tools. I also work on developing and utilizing sensitive diagnostic tools for disease management recommendations.
Collaboration Interest: Regional efforts on applied research for developing sustainable disease management options in fruits and vegetables. I am specifically interested in fungicide resistance, disease forecasting, and soilborne disease management in strawberries. Screening and development of beneficial microbes based products for plant health, productivity, and quality.
Website: extension.wvu.edu/contact/anr/mahfuz-rahman
Email: mm.rahman@mail.wvu.edu
Phone: (304) 293-8838
---
Mark VanGessel
University of Delaware
Pest Expertise: weeds, herbicide resistant weeds, small fruit insects, weeds & diseases
Crops and Commodities: beans, beans (snap), brassicas, butternut squash, corn, corn (field), corn (sweet), cover crops, cucurbits, eggplant, forage, lima beans, peppers, small fruit, small grain, soybeans, spinach, tomatoes, vegetables
IPM Tools: cultural control, education, mechanical control, pesticides
Website: extension.udel.edu/ag/weed-science/
---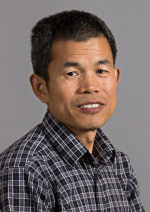 Changlu Wang
Rutgers University
Pest Expertise: ants, bed bugs, cockroaches, insects, rodents, ticks
IPM Tools: monitoring
Bio: Dr. Changlu Wang is an Associate Extension Specialist in the Department of Entomology, Rutgers University. He received his B.S. from Beijing Forestry University (1985), M.S. from Chinese Academy of Forestry (1988), and Ph.D. from West Virginia University (1998). His research interests are developing new and improved techniques and materials for urban pest management, insecticide resistance, and insect behavior. He published 6 books/book chapters, 64 peer-reviewed papers, and 23 non-peer reviewed articles, and coauthored 4 patents.
Collaboration Interest: Pest control research in apartment buildings; Developing new tools and methods for better management of urban pests (ants, cockroaches, bed bugs, termites, and others); Study the biology and ecology of urban pests; Monitor and survey of urban pest infestations.
Website: entomology.rutgers.edu/personnel/changlu-wang/
Email: changluw@rutgers.edu
---