Evaluation
Evaluation uses the systematic collection of information to establish baselines, collect data, and analyze and document changes to determine if we have contributed to those changes. The Northeastern IPM Center collaborates with our partners to make information-based decisions about the effectiveness of our programs using a variety of evaluation tools including social network analysis and outcome-based funding. Our Center encourages the evaluation of IPM research, education, and outreach so that the benefits of this work can be more fully understood, promoted, and valued.
In addition, we conduct IPM evaluations at the Center to document our programs' outcomes and impacts to communicate the important achievements of the Center and its associated programs to USDA NIFA, Congress, and the public.
---
Evaluation Plans for Proposals and Projects
For information about writing an evaluation plan for your proposal, please see:
To request evaluation assistance, please fill in our online form:
---
We'll be at the following conferences. Will you?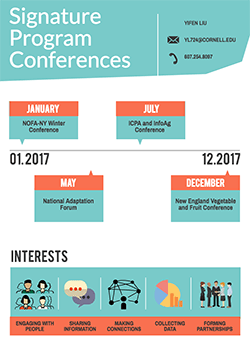 We value our partners and strive to build relationships with them. Our Center has identified conferences that fit each of our Signature Programs (see the infographic at right). Conference attendees will take a one-question survey to help us assess the barriers for implementing IPM. Participants will select the two best options from the list provided, allowing us to evaluate the awareness, perceptions, knowledge, practices used, and adverse reactions among diverse populations. These data will help us track trends and assess our impact over time through continued attendance at the same meetings each year.
These conferences are an opportunity for sharing and interacting with you about any IPM-related topic, so please feel free to come talk to us if you are at one of these conferences!
Download these infographics from our exhibit
---

Evaluation Update
The NEIPMC is interested in knowing peoples' limitations for adopting IPM. And, we now have a way to figure this out! We are exhibiting at conferences aligned with one of our five Signature Programs and actively engaging with individuals who represent organic and conventional agriculture, communities, climate science, technology and engineering, adult and youth education, and the built environment to find out what they think about IPM.
Read about our results:
---
Additional Resources
Questions to Help in Reporting Impacts and Potential Impacts: A brief guide to assist you in assessing and describing the impacts of your project.
IPM Planning and Evaluation: a website developed by USDA, offers excellent information on the use of logic models as a tool for planning projects and measuring their impact.
IPM Guidelines (standards that define IPM practices) serve as an important cornerstone of IPM evaluation work, as they provide a means of measuring the extent to which IPM is being put into practice and risks have been reduced. Support for the development of IPM guidelines is available through our IPM Partnership Grants program. Also, see the Guide to IPM Elements and Guidelines (PDF).
A Toolkit for Assessing IPM Outcomes and Impacts: a web-based resource for researchers and extension scientists with a background in agriculture or natural science, who are preparing proposals for conducting studies requiring impact assessment evaluations.
---