Funded Projects
Latest Project Outcomes
September 12, 2019

Margarita Lopez-Uribe and Robyn Underwood of Penn State are developing a decision-making guide in the form of a web application for beekeepers. Despite intensive management efforts, beekeepers lose 40 percent of honey bee colonies on average in the U.S. The losses are increasing due to a number of factors, and a science-based decision-making tool can help inform more suitable IPM practices for staving off losses due to pests, pathogens, and parasites.
September 12, 2019

The Northeast School IPM Working Group first received a Partnership Grant in 2013 to develop a website on best practices in school IPM. While the site has successfully reached a large audience, both it and the group's own website are in need of comprehensive updates—incorporating stakeholder feedback—to remain timely and relevant.
September 12, 2019

Ellen Mallory and Eric Gallandt of the University of Maine are partnering with organic grain farmers to evaluate new IPM tools for controlling spring annual weeds, which have posed significant challenges to organic growers. The tools—automated camera-guided cultivation and selective weed cutting—will be examined alone and in combination with existing IPM strategies, with results slated to be incorporated into a factsheet and two webinars.
September 12, 2019

Quan Zeng and Neil Schultes of the Connecticut Agricultural Experiment Station are seeking to improve disease-prediction models for fire blight, a bacterial pathogen that poses a significant threat to apples. These models can help inform when to apply antibiotics to greatest effect. Environmental factors play a role in the bacterium's replication, and this project seeks to evaluate the role of water and humidity—and how best to incorporate such factors into the models.
September 12, 2019

Mengjun Hu of the University of Maryland is evaluating ways to take additional environmental factors into consideration when using the Strawberry Advisory System to inform responses to fungal pathogens threatening strawberry production. Existing models use data from on-farm weather stations, which can't account for microclimatic variations experienced by plasticulture strawberries.
---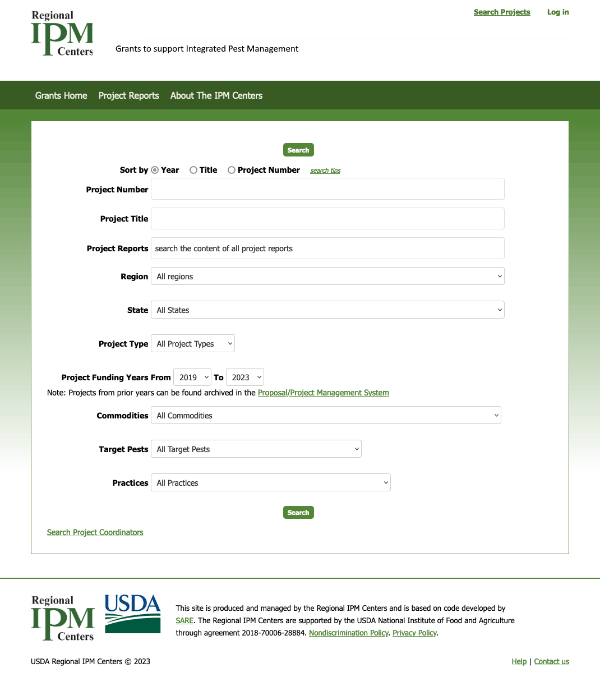 IPM Projects Funded through the Center
Are you curious about all the regional IPM research and outreach that has benefited our environment, health, and economy over the years? Do you want to know more about a specific IPM project, or see all the work addressing a particular pest?
Projects since 2021
In 2021, the four Regional IPM Centers moved to a new grant management system. Funded projects may be searched by various criteria including project title, commodities, target pests, and IPM practices. Projects may also be filtered by region, state, and year. Visit the Search Projects tab in the grant management system to begin your search.
Projects from 1996 to 2020
The Proposal and Project Management System (PPMS) is a searchable database that houses information on more than 300 regional IPM projects funded through four different grant programs between 1996 and 2020. For each project, the system provides data on project directors, institutions, and funding amounts. Many of the records include project summaries, objectives, and impacts, as well as links to related reports and publications.
Applying for Grants through the Center
The grant management system (formerly PPMS) serves an administrative function that allows grants managers, applicants, and panelists to submit and retrieve project information efficiently in a central online location.
U.S. Interagency IPM Projects Database
Information in our database feeds into the U.S. Interagency IPM Projects Database, a national system for IPM projects across the country.
---