Spotted Lanternfly Working Group Meeting
July 16–17, 2018
Albright College, Reading, PA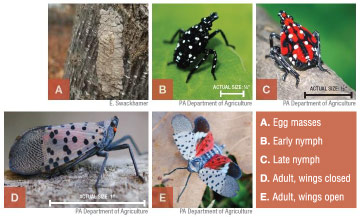 Spotted lanternfly (SLF) is a new invasive pest recently detected in southeastern Pennsylvania that feeds voraciously on many hosts, including grapes, hops, tree fruit, trees, and ornamentals. As this pest continues to expand in population and distribution, reported damage from these industries as well as nuisance problems from businesses and homeowners are becoming more common. Little is known about how to effectively and sustainably manage this pest, especially across such a broad host range.
The working group is holding a 2-day meeting for all researchers, extension personnel, and policy makers who are concerned with SLF. Day 1 will include formal presentations to share field observations, recent research, and to review current management strategies. This will allow for planning with the most up-to-date understanding of the current and emerging issues surrounding SLF. It will be followed by a session on identification of SLF with an optional field visit to see SLF populations in-person. Day 2 will be devoted to establishing research, extension, and regulatory priorities based on input from all participants. These priorities are expected to reflect SLF goals from all possible perspectives and industries and should serve as a guideline for future SLF work.
This working group will serve as the primary platform for all continued collaboration, research, and outreach to advance the development and adoption of SLF IPM.
Download the full announcement and meeting agenda (PDF).
For questions about the meeting, please contact Heather Leach (Penn State Spotted Lanternfly Extension Coordinator) at hll50@psu.edu. To learn more about spotted lanternfly, visit:
https://extension.psu.edu/spotted-lanternfly
---