The IPM Toolbox: "Biocontrols" - Webinar Recording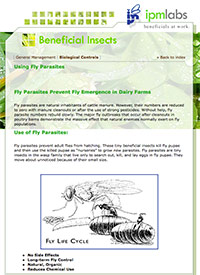 Biocontrols
Recorded May 10, 2016
Carol Glenister, IPM Laboratories, Inc.
IPM Laboratories, Inc., supplies beneficial organisms for the biological control of pests and supports their successful use. They produce seven species of beneficial organisms and distribute more than 45 others. IPM Laboratories was founded in 1981, offering pest management and consulting services. In 1985, they began producing beneficial insects, and published their first catalog and newsletter for the greenhouse and nursery industry in 1988. Today they supply beneficial insects and information in the form of articles, fact sheets, and conference presentations on integrated pest management, individual pests, and environments.
Carol Glenister is the founder and president of IPM Laboratories, and is a pioneer in commercial biological control and IPM. She has been strongly dedicated to the study and promotion of biological control since 1974. She has a Bachelor of Science from SUNY College of Environmental Science and Forestry and a Master's Degree in Entomology from Cornell University. Carol is an active collaborator in the development of industry-wide standards of conduct and quality control through the Association of Natural Biocontrol Producers.
---