Tick IPM #6: Host-Targeted Tick Control – What Works, What Doesn't, and What's New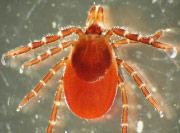 Live Webinar
September 30, 2020, at 11:00 a.m. (eastern)
Register at cornell.zoom.us/webinar/register/WN_waueZOxrTCaIQc-AQsiJnw
The webinar will be recorded for anyone unable to attend the live session.
Description
Dr. Li will discuss IPM tools available for tick control, including host-targeted pesticide application products and biopesticides that he is testing in an ongoing USDA tick-control project in Howard County, MD. He will review studies published on the 4-Poster device and bait boxes, two currently available commercial products designed around the natural behavior of animals that tend to carry Lyme-transmitting ticks, and introduce the Bait Treatment System, a.k.a. "TickLick," currently under development in his lab.
Dr. Andrew Li
Andrew Li's research focuses on developing and validating new IPM tools for tick control and Lyme disease prevention. He is the principle investigator for the USDA-funded Areawide Tick IPM Project (2016–2021). Li also receives funding from the Department of Defense's Deployed Warfighter Protection program (DWFP) to develop novel tick-control/personal-protection tools and products. He is part of the Federal Vector-Borne Disease Integrated Pest Management Working Group.
---
---