Tick IPM Series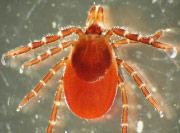 Upcoming Webinars
September 30, 2020, 11:00 a.m.
Dr. Li will discuss IPM tools available for tick control, including host-targeted pesticide application products and biopesticides that he is testing in an ongoing USDA tick-control project in Howard County, MD.
Registration link: https://cornell.zoom.us/webinar/register/WN_waueZOxrTCaIQc-AQsiJnw
---
October 7, 2020, 11:00 a.m.
This webinar will focus on developing preventative landscaping methods to reduce blacklegged tick populations. Research has suggested that both leaf litter and snow were overwintering predictors for nymphal tick survival.
Registration link: https://cornell.zoom.us/webinar/register/WN_w_AzvLSESey23sgy2nm2Vg
---
Recordings
Tick IPM #1: Strategies and Barriers to the Prevention of Tick-Borne Disease
June 10, 2020 — View recording of "Tick IPM #1: Strategies and Barriers to the Prevention of Tick-Borne Disease"
---
Tick IPM #2: What Happens When/If Reducing Source or Preventing Tick Bites Has Failed
June 24, 2020 — View recording of "Tick IPM #2: What Happens When/If Reducing Source or Preventing Tick Bites Has Failed"
---
Tick IPM #3: Asian Longhorned Tick IPM
July 13, 2020 — View recording of "Tick IPM #3: Asian Longhorned Tick IPM"
---
Tick IPM #4: Habitat Management for Vector-Borne Diseases
August 10, 2020 — View recording of "Tick IPM #4: Habitat Management for Vector-Borne Diseases"
---
Tick IPM #5: Pathogens Found in Ticks Collected on School Grounds and Public Parks
September 14, 2020 — View recording of "Tick IPM #5: Pathogens Found in Ticks Collected on School Grounds and Public Parks"
---