Frequently Asked Questions about the Partnership Grants Program
This page addresses frequently asked questions about the Center's Partnership Grants program.
Frequently Asked Questions
---
When are the RFAs released?
In the fall, typically mid-September.
---
When is the proposal due?
The proposal deadline is November 15, 2019, at 5:00 p.m. EST.
---
When are funding decisions made?
Expected by: February 15, 2020.
---
Who is eligible to submit a proposal (as a project director)?
Anyone in the region, including those who are not part of land-grant institutions. Project directors must work and conduct the relevant work in the Northeast (Connecticut, Delaware, Maine, Maryland, Massachusetts, New Hampshire, New Jersey, New York, Pennsylvania, Rhode Island, Vermont, West Virginia, and Washington, D.C.). People outside the region may collaborate with eligible project directors.
---
What is the purpose of the grant?
The Center's mission is to foster the development and adoption of integrated pest management, a science-based and sustainable approach to managing pests in ways that generate economic, environmental, and human health benefits. The efforts of the Center are organized under five Signature Programs (not in order of priority)
IPM and Organic Systems,
Rural and Urban IPM,
Climate Change and Pests,
Next Generation Education,
Advanced Production Systems.
Funded projects are expected to contribute significantly to the adoption and/or development of IPM by addressing regional priorities in one or more Signature Program through the following:
forming partnerships among growers, scientists, educators, environmental groups, governmental agencies, and other audiences for the purpose of advancing IPM
increasing knowledge about pests and how to manage them in traditional and new settings
establishing or addressing regional IPM priorities for research and extension
teaching others how to use IPM to decrease risks associated with pest management developing capacity for growing food sustainably using IPM
---
What kinds of projects are funded?
There are three project types and a separate RFA is released for each one:
IPM Applied Research
IPM Working Groups
IPM Communications
A database of previously funded projects is available for viewing at www.northeastipm.org/ppms.
---
How can I determine what project type best fits my idea?
Project types may not be combined into one proposal. There is a separate RFA for each project type. However, more than one project type for a specific topic may be submitted. For example, an emerging pest issue could be addressed through:
a detailed and strategically planned assembly of individuals (Working Group), OR
a focused research project (Applied Research), OR
the development of publication(s) and/or a pest management strategy plan (Communications), OR
the collaboration of PDs submitting 3 complementary proposals listed above.
Applicants should use this decision tree to help determine what type of project best matches their idea. If you need help, contact us.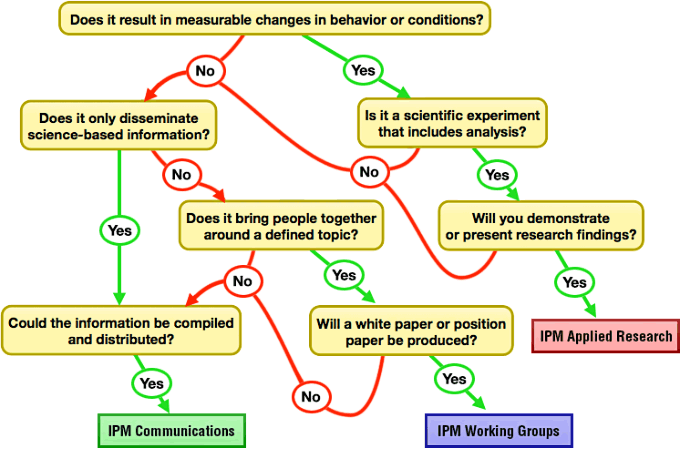 ---
How do I apply?
You or your authorized organizational representative must submit the proposal online. Follow the instructions in the RFA for your project type (Applied Research, Working Group, or Communications) and download blank forms as needed from the Proposal and Project Management System.
Upload completed forms and other documents to the Proposal and Project Management System. For a quick introduction to setting up an account and submitting a proposal, please view these tutorial videos.
An RFA for each project type with full instructions for applying is located online at www.northeastipm.org/rfa/partnership.
---
What is required in the application?
A cover sheet, project description, documentation of collaboration, logic model (for Working Group and Communications projects only), budget, budget narrative, current and pending support form, conflict of interest listings, NEPA Exclusion, Assurance Form, and CVs.
---
My project will benefit primarily my own state. Is this acceptable?
All applicants to the Partnership Grants program should convincingly show benefits to the region. If your project doesn't show regional benefits, please consider applying to another program.
---
Who writes the RFAs?
The Center writes the RFAs and maintains authority over them.
---
What is the funding success rate for this program?
It varies. We typically fund 8–13 projects per year, with a funding rate of 25–50% of proposals.
---
What is the grant duration?
One to two years, depending on the type of proposal.
---
How much money is available?
Approximately $200,000 for the 2019–20 funding cycle.
---
What are typical award amounts?
IPM Applied Research: up to $50,000 (and up to 24 months to complete). Projects that include a significant collaboration with an 1890 institution are eligible for a maximum of $60,000.
IPM Working Groups: range from $10,000 to $20,000.
IPM Communications: up to $20,000.
---
What are the allowable indirect costs ("overhead")?
30% of Total Funds Awareded.
---
Who disburses the funds?
Cornell University.
---
How can I get more information?
Visit our website, NortheastIPM.org, or contact Jana Hexter by telephone, (607) 278-3418, or email: jh30@cornell.edu.
---
When is the RFA webinar?
October 9, 2019, 10:30–11:30 p.m. See the webinar information page for more details.
---