Language Justice: A Webinar on the Intersection of Language, Justice, and Agriculture Offering Practical Strategies for Cross-language Communication
Recorded January 9, 2023
Download presentation slides (PDF, 9 MB)
Additional Links
Description
The Northeastern IPM Center is partnering with the USDA Office of Pest Management Policy to host a workshop covering language justice basics. At the core of language justice, is the understanding that language is never neutral. The ways in which we communicate, the languages we communicate in, who is heard, who is not heard, etc., are all questions influenced by different histories, contexts, and relations to power. More than 75% of farmworkers in the U.S. identify as Hispanic and 77% of them report Spanish as the language they feel most comfortable using. Language justice seeks to honor all languages and increase the presence of multilingual educational spaces in the food system.
In this workshop, participants will learn about language access and language justice, why it is relevant for agriculture, and what are some tools and approaches to consider when planning a multilingual event. Participants will also hear from an agricultural services colleague who will share his experience and learnings transitioning from offering monolingual English programming to multilingual English-Spanish programming.
Adriana Pericchi
Adriana Pericchi is a language justice interpreter, translator and consultant with experience in the fields of agriculture and social justice. Adriana was born in Caracas, Venezuela and raised in San Juan, Puerto Rico. Five years ago she added Kingston, NY, to the list of homes in her heart. She works between Spanish and English and also loves communicating in the languages of dance and song.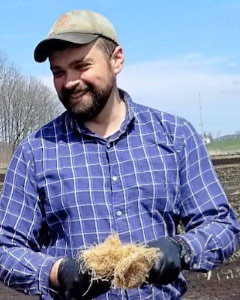 Ethan Grundberg
Ethan Grundberg (MS '09, University of California, Davis) serves the commercial vegetable growers of the Lower and Mid-Hudson Valley with a specific emphasis on providing technical support to Orange County's black dirt farms. His research interests include evaluating biofungicides in both organic and conventional systems, adapting reduced tillage practices to muck soils, quantifying greenhouse gas flux from soils under annual cultivation, small farm equipment, improving onion pest management through adjuvant selection, and improving organic management of the allium leafminer.
---
---