Non-traditional Areas for IPM Careers and the Associated Challenges for 2SLGBTQIA+ Individuals in Pursuing Them
Recorded December 7, 2022
Download presentation slides (PDF, 6.6 MB)
Description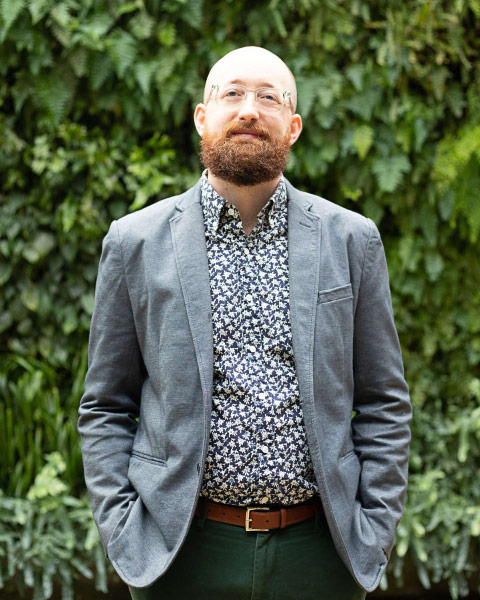 This talk presents two related perspectives. The first perspective is on the fruitful opportunities for integrated pest management (IPM) in the wide world of green industry careers. This will be informed by and focus on my experiences in both public horticulture and the medical cannabis industry, two sectors not always addressed when IPM careers are discussed.
The second perspective is on how IPM (and many other) career options are at best limited and at worst completely unavailable to some members of the 2SLGBTQIA+ community such as myself. Many of the available career options present major sociological, psychological, and physical safety barriers to my community, often stemming from geographic location, history, and local or state political realities. I will share my personal view and experience on this with the positive intent of helping the wider field to initially understand and ultimately address these issues.
Ryan Gott
Ryan Gott, PhD, is a systems-thinking professional in public horticulture. Ryan is currently a Fellow at Longwood Gardens in the Fellows Program, a 13-month, residential living and working experience that further develops high-potential individuals' leadership skills in public horticulture. His background is as a plant health specialist working in Integrated Pest Management (IPM) and quality control in Pittsburgh, Pennsylvania, in the medical cannabis industry and as the Associate Director of IPM at Phipps Conservatory and Botanical Gardens also in Pittsburgh. Ryan is also an avid educator, having taught for over 11 years in settings from formal college classrooms to public science festivals. Ryan is an enthusiastic advocate for sustainable landscaping and has a particular interest in Eastern North American native plants. He received his bachelor's degree in biology from Purdue University and his doctoral degree in entomology from the University of Maryland.
---
---