Promoting LGBTQ+ Inclusivity in the IPM Field: Perspectives from IPM Professionals
Recorded June 20, 2023
Q & A
Q. Should an employee come out to their employer?
A. Here is a resources on this question from Human Rights Campaign: www.hrc.org/resources/coming-out-at-work
---
Q. How should an employer respond when an employee comes out?
A. This resource can be helpful, but I would say the main answer is to listen and affirm: www.ucl.ac.uk/equality-diversity-inclusion/sites/equality_diversity_inclusion/files/coming_out_guide.pdf
---
Q. Samantha, can you talk about how agroforestry and the complexity of agricultural systems correlates with the LGBTQ+ experience?
A. Check out this podcast I was featured on about the intersection of queer ecology and agroforestry: open.spotify.com/episode/6XHNpyDe6Ml6A0C66cQDYX?si=767b6a4afe9b4ac7
---
Q. What is "Title 9"?
A. Title IX is the most commonly used name for the federal civil rights law in the United States that was enacted as part of the Education Amendments of 1972. It prohibits sex-based discrimination in any school or any other education program that receives funding from the federal government.
---
Q. I'm a recruiter and asked an interviewee which pronouns they use, and the person responded that they do not use pronouns. I wasn't sure how to respond. Do you have any advice for a situation like that?
A. See this PFLAG resource on no pronouns: pflag.org/resource/what-do-you-do-when-someone-doesnt-use-any-pronouns/
---
Q. Where can we learn about LGTBQ+ rights in different states?
A. See this HRC link on LGTBQ+ rights, state by state in 2022: www.hrc.org/resources/state-equality-index
---
Description
This panel explores the connection between the IPM professional community and the LGBTQ+ community, brings awareness to common issues faced by the LGBTQ+ community, and provides a conversation about ways IPM professionals can be allies and help improve equity within IPM and adjacent fields. Our panelists are passionate about LGBTQ+ inclusion. They can speak to LGBTQ+ issues and how they intersect with their roles in IPM extension, research, and regulation. Our panel will end with a Q&A session where panelists and participants will brainstorm tangible actions we can take to be more inclusive and supportive of the LGBTQ+ community in IPM research, extension, and outreach.
Kim Skyrm (he/him)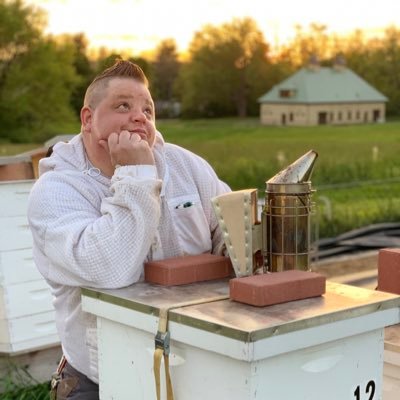 Chief Apiary Inspector at Massachusetts Department of Agricultural Resources (MDAR) and East Director for the Apiary Inspectors of America (AIA)
Dr. Skyrm received a PhD in Entomology focused on the environmental impacts affecting bumble bees in the Willamette Valley from Oregon State University. Dr. Skyrm has always been driven by an intense love of bees to serve in supporting roles informed by the latest scientific research. This is evident since Kim has been working with wild and managed bees, beekeepers, farmers, pesticide applicators, gardeners, municipalities, and the public for the past 17 years through outreach education, research, and extension. This passion also spills into his spare time as well since Kim is an avid bombiculturist and has reared 16 different species of wild bumble bees along with maintaining honey bee hives as a hobby beekeeper. Kim is also a "cat-dad" doggy parent to Rubee, a Scottish terrier puppy, and Tran, a rose hair tarantula. When not "bee-ing" fascinated by bees or being a pet dad, Kim enjoys spending time with his partner, Sarah, and their chosen family in Western Massachusetts.
John McMullen (they/he)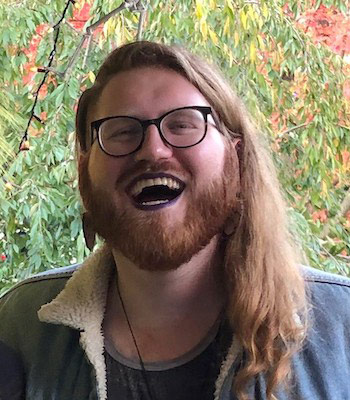 Postdoctoral Fellow at Indiana University Bloomington
Dr. McMullen has a background in the evolutionary and chemical ecology of microbial symbioses and microbiomes. They are interested in studying natural phenomena among beneficial microbes and their hosts to understand how we can use microbes in sustainable agriculture for the biological control of insect pests and biofertilizers of plants. Their work has spanned studying insect pathogenic nematodes and how they kill insects to using microbial-based attract-and-kill approaches in fruit fly pests. In addition, John is a passionate advocate for diversity, inclusion, and equity in science and agriculture and has served on the board of Out in STEM, an LGBTQ professional STEM society.
Samantha Bosco (she/they)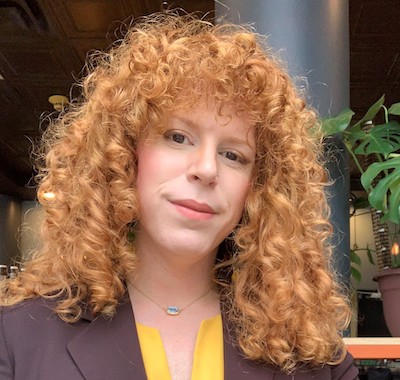 Oak Ridge Institute of Science and Education postdoctoral fellow at National Agroforestry Center (NAC)
Dr. Bosco received her PhD from Cornell University in 2022. Her transdisciplinary and community-based dissertation examined the past, present, and future role of temperate nut trees in both Haudenosaunee and non-native communities in New York. She was a 2021 Botany in Action Fellow with the Phipps Conservatory and was awarded a Social Justice award by the Cornell Graduate and Professional School. Before joining NAC, Bosco served as the Agroforestry and Nut Cropping Program Planner for Cornell Cooperative Extension providing technical assistance and agroforestry education across New York. She has helped organize and deliver TLGB+ justice, equity, and inclusion conversations at Cornell and within the agroforestry community. In her free time, Samantha enjoys outdoor adventures, writing songs about queer power, and performing on stage.
Mary Centrella (she/her)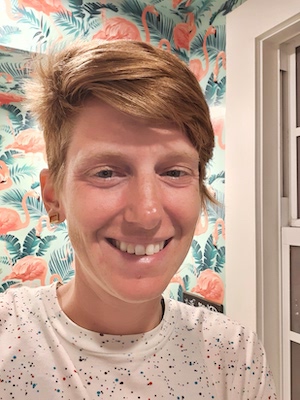 Director of the Cornell Cooperative Extension Pesticide Safety Education Program (CCE-PSEP)
Dr. Centrella works alongside an incredible team of pesticide safety education experts to help ensure that pesticides are used properly and in compliance with NYS regulations, with the ultimate goal of reducing risk to people and the environment. Mary's passion for nature and science stems from having grown up in wild Wyoming. She received her PhD in Entomology at Cornell University. She has studied South American gall wasps, created Wyoming prairie pollen libraries, and assessed the factors impacting upstate New York mason bees in apple orchards. Mary is co-chair of New York's Community IPM Coordinating Council, and she serves on the NYS IPM Advisory Council and the Northeastern IPM Center Advisory Council. Mary is part of the LGBTQ+ Cornell Network Group and has served as a mentor with the Cornell LGBT Resource Center Graduate Mentorship Program. In her free time, Mary enjoys birding, paddle-boarding, and hiking in Ithaca, NY, where she lives with her wife.
---
---