Bilingual Mushroom IPM Educational Materials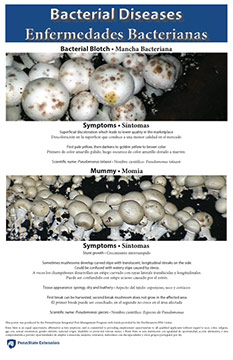 Description: Four colorful posters that help mushroom industry workers identify insect pests and diseases are now available. The posters, with both English and Spanish text, help workers discover pest and disease problems before they are too severe. The Penn State Extension Horticulture team and the Pennsylvania Integrated Pest Management Program (PA IPM) recently produced the posters as part of a series of bilingual educational materials for the mushroom industry.
These bilingual posters of the major mushroom pests and diseases were developed to help employees with identification and early intervention to minimize yield loss. Posters, printed on moisture-resistant paper, are the preferred tool for management to use to train on-site, at specific times during mushroom production.
Basic funding for the project was supplied by a Northeastern IPM Center grant to PA IPM entitled Bringing IPM to the Hispanic Workforce in the Mid-Atlantic Mushroom Industry, which partnered with Penn State's mushroom research and extension program and the American Mushroom Institute.
Download links:
External link: http://extension.psu.edu/plants/vegetable-fruit/mushrooms
Publication date: 2017
---