Tick IPM #2: Tick-borne Disease: Integrated Risk Management
Recorded June 24, 2020
Download presentation slides (PDF, 3.9 MB)
Description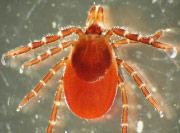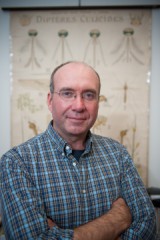 Dr. Rich addresses the next phase of integrated action planning. He discusses how to proceed when efforts to reduce sources of tick bites—or to prevent bites altogether—have failed. He will
explain the feeding process and why timing is essential to disease transmission;
outline approaches for assessing the risk of tick-borne disease (including an overview of known pathogens);
describe laboratory testing procedures for ticks and humans;
present passive-surveillance database summaries and provide links for customized searches of that database.
Dr. Stephen M. Rich
Dr. Rich studies vector-borne zoonoses, i.e. those whose transmission is facilitated by a blood feeding arthropod. In particular, he has focused on the study of Lyme Borreliosis (Lyme Disease) and human malaria. His lab is currently studying not just the basic biology of these pathogens and their transmission, but also investigating means of intervening. In the realm of tick-borne diseases, they've engaged a first-of-its-kind passive surveillance for established (e.g., Lyme) and emerging (e.g., Anaplasma, Babesia, and Bartonella) pathogens in the range of human-biting ticks. From that work they're finding spread of emergent pathogens and that in turn drives efforts to learn the causes of that spread.
---
---