IPM Partnership Grants Program
The application period for this RFA has closed as of 5:00 p.m. on November 15, 2019. Subscribe to our email news to be notified about grant program updates.
Program Highlights
| | |
| --- | --- |
| Available Funds | Approx. $200,000 (total) |
| Application Deadline | November 15, 2019, 5:00 p.m. (EST) |
| RFA Forms | Complete RFA and forms |
| Related Links | |
Purpose
Projects funded through the IPM Partnership Grants Program must further the mission of the Northeastern IPM Center, address or identify IPM Priorities for the Northeast, and benefit the region at large. Extension projects are encouraged.
The efforts of the Center are organized under five signature programs (not in order of priority)
IPM and Organic Systems
Rural and Urban IPM
Climate Change and Pests
Next Generation Education
Advanced Production Systems
Funded projects are expected to contribute significantly to the adoption and/or development of IPM by addressing regional priorities in one or more Signature Program through the following:
forming partnerships among growers, scientists, educators, environmental groups, governmental agencies, and other audiences for the purpose of advancing IPM
increasing knowledge about pests and how to manage them in traditional and new settings
establishing or addressing regional IPM priorities for research and extension
teaching others how to use IPM to decrease risks associated with pest management developing capacity for growing food sustainably using IPM
Types of Project
The IPM Partnership Grants Program funds three types of projects:
IPM Applied Research
IPM Working Groups
IPM Communications
There is a separate RFA for each project type.
Project types may not be combined into one proposal, but more than one project type for a specific topic may be submitted. For example, an emerging pest issue could be addressed through:
a detailed and strategically planned assembly of individuals (Working Group), OR
a focused research project (Applied Research), OR
the development of publication(s) and/or a pest management strategy plan (Communications), OR
the collaboration of PDs submitting 3 complementary proposals listed above.
Applicants should use this decision tree to help determine what type of project best matches their idea. If you need help, contact us.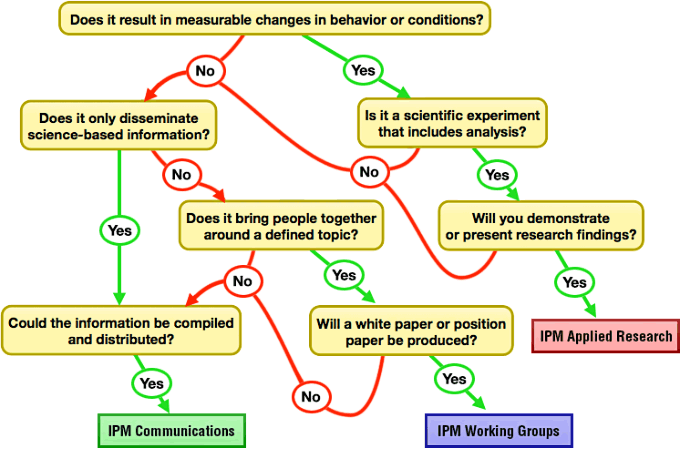 Available Funds
Approximately $200,000 is available for 2020, with a maximum of $50,000 per award, depending on project type. Projects that include a significant collaboration with an 1890 institution may be eligible for a maximum of $60,000. There is a 24-month time limit on funded projects.
Eligibility
Public and private institutions or organizations, businesses, commodity groups, and private individuals are eligible for these funds as long as they are able to meet the criteria for subrecipients required by federal regulations and Cornell University. PDs from smaller states, 1890 land-grant institutions, Hispanic-serving institutions, and community colleges are encouraged to apply. All PDs must work and conduct the relevant work in the Northeast. Co-PDs may be from outside the region.
Successful applicants will be required to meet Federal and Cornell University Subaward Requirements as specified in Appendix E of the RFA, which include:
Background
The Northeastern IPM Center began funding projects through the IPM Partnership Grants Program in 2004. The Center has primary responsibility for administering this program and writes the Request for Applications (RFA) with input from regional stakeholders.
Contacts
---
Application Process
Request for Applications (RFA)
Applications are submitted via the Center's online grant management system. The complete RFA and forms required for your application are provided there. You must create an account or login to the system to submit a proposal. For a quick introduction to setting up an account and submitting a proposal online, please view these tutorial videos.
Deadline
The application period for this RFA is currently closed. Subscribe to our email news to be notified about grant program updates.
---
Resources
See the IPM Partnership Grants Program Resources for useful links.
---